Highlights from 2016-2017

---
---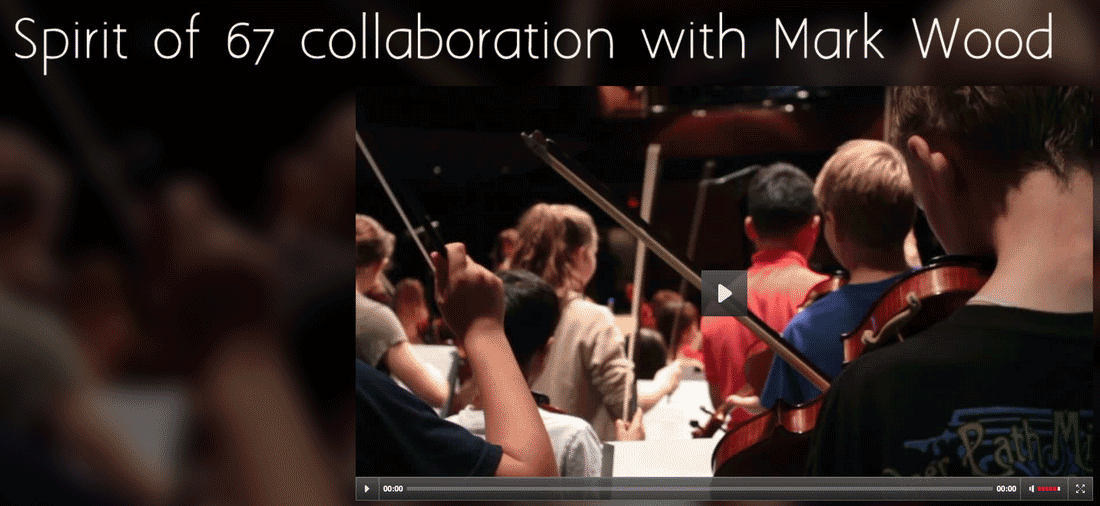 ELECTRIFY YOUR STRINGS WITH MARK WOOD
Mark Wood's inspirational Electrify Your Strings educational program was provided for our DPM 6th-8th grade orchestra students in the Fall of 2016. Mark Wood is a World-renowned, Emmy-winning composer and electric violinist. During the program held at the LFHS Auditorium Mark taught orchestra students improvisation, composition and personal expression on their violins, violas, cellos and basses. After working with Mark during the school day, orchestra students performed a live combined LFHS/DPM concert alongside Mark Wood in the LFHS Auditorium. It was an amazing once in a lifetime experience for these students. The Spirit of 67 was proud to partner with the LFHS Applause Board to deliver this fantastic program.
---
---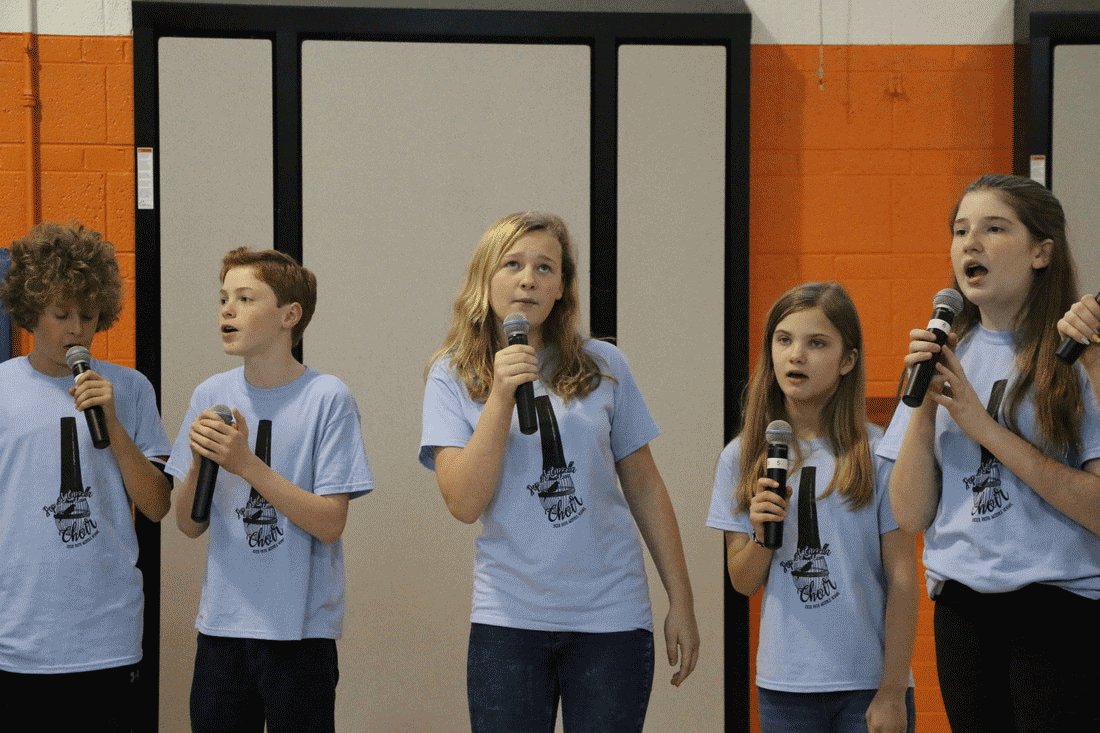 PORTABLE AUDIO SYSTEM IMPROVEMENT PROJECT
The Spirit was pleased to fund a grant this year that provided DPM with a high-quality portable sound system that can be easily transported throughout the building, district and community. This technology allows for presentations and performances to be held in the cafeteria, gym or any outdoor space. In particular, this system is greatly benefiting the popular Pop Acapella choir by allowing each student to sing with a wireless microphone. They recently performed in each elementary cafeteria during lunch to encourage upcoming 5th graders to participate in the music programs at DPM and at the Opening Doors for Education Home Tour.
---
---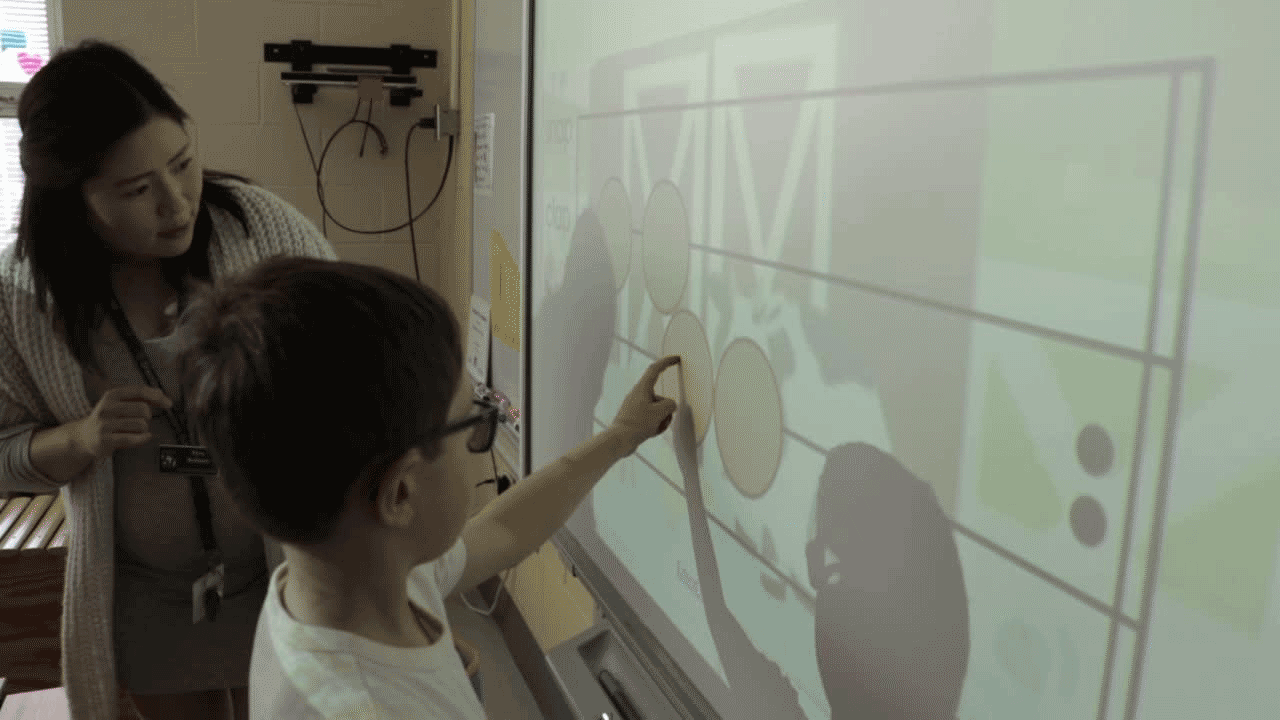 SMARTBOARDS FOR K-4 MUSIC CLASSROOMS
"The SMARTBoard has been an invaluable tool and has revolutionized the way we experience Music at Cherokee, Everett and Sheridan," is the feedback from our music teachers. This grant provided SMARTBoards for music classrooms in all of our elementary schools. In requesting this grant the music teachers shared that this tool would allow them to use their limited time with students more efficiently and more effectively. It allows them to have visuals and interactive activities set and ready for each class with a few clicks and students' progress or input during the lesson can easily be saved and retrieved for their next class. They report, "Our students have had great success working with manipulatives on the SMARTBoard. They are also able to make connections and mark them, just like pencil and paper, but now have the ability to save in between Music classes in order to jump right back into their work." This teaching tool gives both visual and hands-on learners opportunities to grasp and engage with the musical concepts being explored. One student put it like this, "I like how it actually helps students that don't understand notes and rhythms." This technology has increased student engagement and participation in music classes across the district. The teachers shared, "The students' motivation during instruction has improved to where students who would not offer anything during instruction are now volunteering to create musical thoughts using the SMARTBoard."
---
---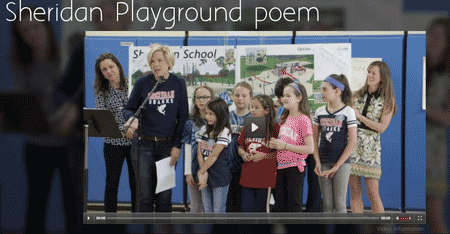 Revitalize Outdoor Wellness and Recess at Sheridan
The Spirit of 67 is thrilled to partner with the District and the City of Lake Forest to revitalize the outdoor playground space at Sheridan. The foundation will provide the equipment that the students at Sheridan have researched and designed. Mrs. Gross was so excited she wrote a poem! Listen by clicking on the image at left.
---
---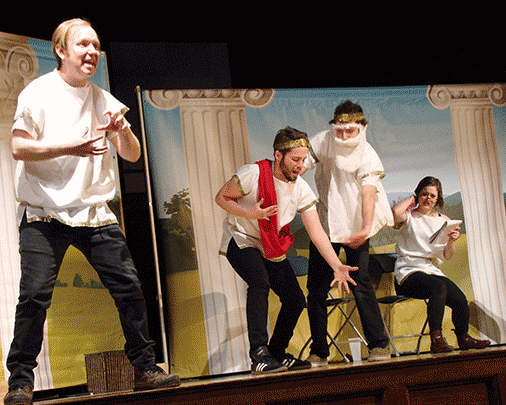 APT FINE ARTS ENRICHMENT PROGRAM
Olympiaganza performed by Great Works Touring Theater
5th graders at DPM were treated to Olympiaganza. A synopsis of the show from the Great Works Touring Theater website, "Take the classics in Greek mythology, put them in a blender, add a lot of whacky props, and you get one of the most entertaining hours your students will ever see." This show was part of the APT Fine Art Programming funded by a Spirit grant and connected to the 5th grade social studies curriculum.
---
---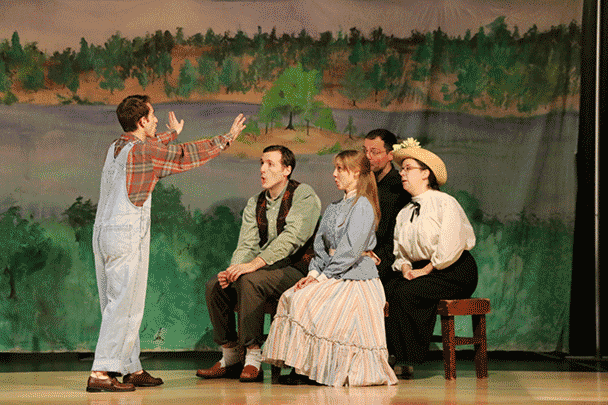 APT FINE ARTS ENRICHMENT PROGRAM

Tom Sawyer American Eagle Productions
7th and 8th graders enjoyed a performance of Tom Sawyer as part of the APT Fine Art Programming funded by a Spirit grant. This new musical adaptation is the story of a fourteen-year-old boy growing up in the heartland of America. This musical version of Mark Twain's novel is set in 1840 in Hannibal, MO, a bustling town on the banks of the Mississippi River. In the course of the story, Tom matches wits with his stern Aunt Polly, falls in love with the beautiful, feisty Becky Thatcher, and goes on the adventure of his life with Joe Harper and Huckleberry Finn. Along the way he meets a terrifying villain named Injun Joe, and a wayward Muff Potter. In the end, Tom learns who to trust and how to become one the noblest characters in literature.
---
---
APT VISITING AUTHOR

Candace Fleming Visits the Elementary Schools
Acclaimed author Candace Fleming visited our three District 67 elementary schools. Ms. Fleming has written more than twenty books for children and young adults. She hosted various presentations and writers' workshops at each of the schools inspiring our young readers and writers.
---
---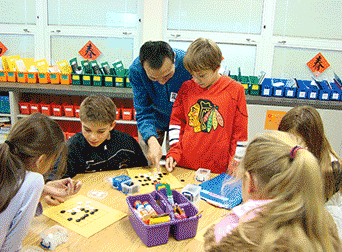 WEICHI
Students learning Mandarin at Cherokee elementary school recently received specialized instruction for the game of Weichi. As the students' knowledge of the game develops, their language skills will increase as well as the higher level thinking skills necessary to strategize while playing Weichi.
Here's more about the game from weiqi.org.sg/Home/AboutWeiqi. Having developed in China between 3,000 and 4,000 years ago, Go (called Wei Ch'i in China and Baduk in Korea) contends with backgammon for the right to be called the oldest game still played in its original form. Today it is played by millions in Asia and thousands elsewhere. Weiqi is an intellectual but fun game. It is much more complex than the Chinese Chess, thus usually takes quite long to finish a game. A game of Weiqi can take as quick as 15 minutes and as long as days to finish. Weiqi helps to improve one's concentration, calculation, memory and creativity.
---
---
APT FINE ARTS ENRICHMENT PROGRAM

​The Great American Challenge Presidential Game Show
American Eagle Productions
The Great American Challenge Presidential Game Show is for students in Grades 2-8. Modeled after "Family Feud", this exciting show uses teams of contestants from the audience to answer questions about the presidential election and general social studies. All questions are grade appropriate and teacher tested. This genre is especially relevant given the election year. This is an engaging way to present this timely historical event. As many as 50 students are chosen to play and students in the audience get a chance to participate. The Great American Challenge Presidential Game Show can be adapted to fit the curriculum and teachers may submit questions or submit questions or suggest specific topics to be included in the show. Thanks to the partnership between the APT and Spirit of 67 Foundation DPM students were treated to this experience on September 26 and students in grades 2-4 at each of the elementary buildings had their chance on October 5 & October 6. The programs were customized based on the curriculum and grade levels of the audiences.
---
---
APT FINE ARTS ENRICHMENT PROGRAM
Barrel of Monkeys
Barrel of Monkeys is a writing curriculum focusing on facilitating creative expression. It was founded by two performers, Erica Halverson and Halena Kays, who also has a Ph.D. in Education and Social Policy. They based the methods of this program in research that shows that drama games work to improve the quality and consistency of writing and literacy skills and that stimuli provided through pictures, song, movement and play-acting are essential to child development. BOM teaching artists meet with each 4th Grade classroom for 1 hour to discuss the writing assignment, performance and writing strategies. They focus on group writing vs. individual writing, writing for performance and social and emotional confidence. Then the students continue to work on the pieces with their teachers and send them back to the actors once they are completed. Then in approximately 6 weeks- the actors return to perform the students pieces to the grade. This experience in writing for a variety of purposes and audiences ties well with the new Lucy Caulkins writing workshop the district has adopted. Learn more at the Barrel of Monkeys website.
---
---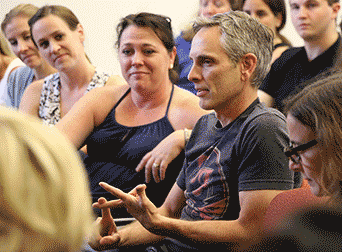 HOMEGROWN READING INSTITUTE 2016-17: A Partnership between the Spirit of 67 Foundation & District 67
"The Homegrown Reading Institute was an incredible week of growth for me as a teacher and a reader! It was a transformative experience and I cannot wait to grow my students as readers too!!!!!"
Over 70 teachers and administrators attended the Homegrown Reading Institute provide by Teacher's College during the second week of July 2016. This valuable professional development opportunity was made possible through a Spirit of 67 Foundation Grant in partnership with the District 67 administration. The purpose of the 4-day institute was to help the K-8 staff prepare for the implementation of the Lucy Caulkins Reading Workshop during the upcoming year. Here's what a few more participants had to say:
"My colleagues and I spent four days with each other and the most knowledgeable staff developers! We discussed, questioned, created and reflected on some of the most important work we will be doing in the coming years. All this would not have been possible without the very generous grant provided by Spirit of 67."
"The learning experience was incredibly rich for teachers, reading specialists, and administrators alike. Our collective knowledge and skills have grown tremendously as a result of this opportunity; I can't wait to see the impact it has on our students. Thank you for enabling District 67 to stay on the cutting edge of teaching and learning!"
"The past 4 days proved to be very beneficial and some of the best professional development I have had in my 18 years of teaching. I look forward to the upcoming school year and to implementing in my classroom the tools I have learned about this week!".